Time to groove into the weekend with some epic art shows and dance parties in our favourite metaverses. Check out the highlights for this coming weekend below.
Decentraland Events
ORLINSKI & OZUNA NFT DROP IN BITBUZZ GALLERY
When: Friday, May 28th at 12AM UTC
Where: 40, -84
Ozuna, a trailblazer in the Latin Music World, and renowned French sculptor and neo-pop artist Richard Orlinski, have partnered to release NFTs on Rarible, facilitated by Zytara Labs. Their 'El Oso & Wild Kong' NFT collection includes 5 original pieces that feature Ozuna's famous bear logo combined with Orlinski's unique vision. Two pieces will be placed for auction while the remaining three will be sold at a fixed price.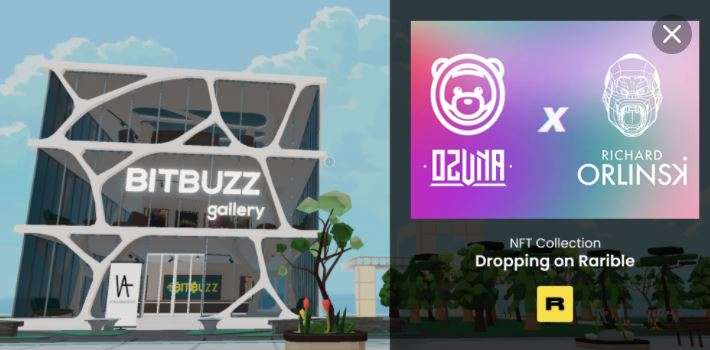 LOFI NFT AUCTION
When: Saturday, May 29th at 9PM
Where: 32, -64
First auction of a new brand on Rarible and expanding to The Sandbox soon, which makes LOFI NFTs with the LOFI token. There will be games and prizes with NFT giveaways.
LABYRINTH PARTY BY "THEPARTY"
When: Sunday, May 30th at 10PM
Where: Tartaria
Come party with your favorite NFT artists inside the labyrinth! Live music by DJ StoneyEye.
Somnium Space Events
METAVERSE ARCHITECTURE PODCAST
When: Friday, May 28th at 21:00 CEST
Where: Click here 
Join UC-CITY and Artific and learn how to make awesome metaverse builds in Somnium.
NYLA GENZ SHOW WITH NFTEACUPS 
When: Saturday, May 28th at 18:00 CEST
Where: Click here
Nyla's GenZ show with @NfTeacups (teacups painted as 100 unique characters by 12 y/o artist Yasmeen Suleiman).
TAKE ME TO THE MOON
When: Sunday, May 30th at 22:00 CET
Where: Parcel 4243
Group exhibition featuring Pranksy, Natural Warp, Andy Thomas, Max Osiris, ROBNESS
Katy Arrington, Yura Miron, Metageist, Silvio Vieira, Simon Haiduk, Neon 3000, HotFrost and many more. 
CryptoVoxels Events
PIXAWYVERN COMMUNITY NIGHT
When: Friday, May 28th at 7AM UTC
Where: 306 Proxima Tower
Check out some featured artists at the PixaLyfe Community HUB! This is an event during #WyvernWeek, a celebration of the last PixaWyvern NFTs being minted and sold.
V0X005 SESSION
When: Sunday, May 30th at 2AM
Where: 202 Ceres Tower A
Rising from the depths of the underground techno scene, DJ Harknee will be performing at VOX.
Want more? Connect with NFT Plazas
Join the Weekly Newsletter
Join our Discord
Follow us on Twitter
Like us on Facebook
Follow us on Instagram
Decentralization is the future.